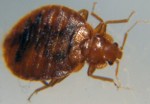 We have all been told numerous times over the years to launder new items before wearing or using them in the home. With the resurgence of bed bug activity NOW more than ever, it is time to heed that advice.
You've heard the headlines – Bed bugs found in retail outlets in New York City – some pretty well-known names – they show that Bed Bugs do NOT discriminate!
 I know that may seem irrelevant for South Jersey – but you need to know that AB-Con gets numerous calls for Bed Bugs every week!
Everyone likes to wear or use NEW things. But consider this:
You never know where these items have been:
exactly where they are made
what condition the factory and warehouses are in
how they got shipped into this country
where they were stored when they got here
how they were shipped to your favorite retail outlet
how they were stored once they got there
who touched them in the store hanging on racks or shelves
who tried it on before you bought it
or worst of all – who bought, wore it and returned it dirty!  (remember those news reports about retailers re-stocking used underwear!)
So here is some friendly advice for your Holiday Shopping expeditions:
Carefully inspect the item(s) that you are interested in purchasing.
Pay particular attention to:
Bed Frames/Mattresses
End Tables/Dressers
Upholstered furniture
Clothing and Shoes
Stuffed Animals
Mirrors and picture frames
Check corners and crevices of furniture for signs of bed bug activity.
When in Doubt – Get out!
If you think you see evidence of bed bugs, tell the proprietor and leave! When you get home, wash everything that you wore in HOT water (120°F) and use the drier on HIGH setting for 30 minutes, or dry clean.
Bring the Plastic
Take any treasures home in plastic bags that seal. (You can find brands such as Hefty and Ziploc in 3 – 22 gallon sizes.) Even a tightly tied plastic grocery or garbage bag is better than nothing, and put the bags in your car's trunk.
If you buy furniture
Inspect it carefully. Very, VERY, carefully.
Bring the Heat – before you USE or WRAP!
Don't remove your purchase from the plastic bag until you're ready to launder it. The first time from the bag, put it in the washer on HOT (120°F) and use the drier on HIGH setting for 30 minutes, or dry clean.
Trust me, you do NOT want to be the one to introduce Bed Bugs into your home or someone else's in the form of a Holiday Gift!
If Bed Bug Treatment is necessary, use a licensed pest management professional (exterminator). Nothing that you can buy over the counter is effective at killing bed bugs!
Protect your family and have your problem solved safely from the start!