AB-Con has over 40 years experience providing outstanding quality and service to homes and businesses in Southern New Jersey. We look forward to serving you.
Serving Customers Since 1984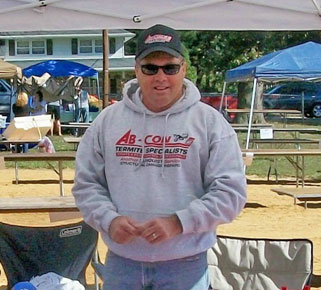 In 1984, Ed Runquist, Jr. founded AB-Con Termite and Pest Control Services. In the beginning, Ed worked extensive hours managing every single aspect of the business. His impeccable attention to detail and a developing reputation for prompt, high-quality service at a competitive price proved to be a recipe for success. Through word-of-mouth recommendations, satisfied, loyal customers grew his business by leaps and bounds.
Ed's South Jersey customer base continued to expand. He realized that in order to deliver the same level of superior service to his ever-growing customer base, he could not do it alone. Ed recruited the talents of someone with substantial business experience that he already knew, trusted, and respected: his mother, Elva. Ed and Elva immediately developed a seamless working relationship, knowing each other's strengths and aptitudes. Not surprisingly, Ed and Elva share the same high ethical standards and customer-first philosophy in operating a business.
Dedicated and Experienced Staff
The rest is history. This resulting partnership, along with a dedicated staff and commitment to the pest management business, set the standard for pest control services in South Jersey's Camden, Burlington, and Gloucester Counties. From its humble beginnings, AB-Con has now grown into a full-service company with many full-time employees servicing over 18,000 residential, commercial, and industrial customers. However, the level of customer service and satisfaction set by Ed and Elva three decades ago remains unchanged. At AB-Con, the job is finished when the results are delivered.
AB-Con Termite & Pest Control Services now includes:
AB-Con Termite & Pest Control
AB-Con Construction – Structural Damage Repairs
Certified for Excellence
Ed graduated Glassboro State College in 1984 with a Bachelor of Science in Business Management and an Associate's degree in Applied Science.
Since then Ed has acquired and maintained multiple NJPM categories of certification: 7a – Core, 7c – Structural & Rodent, and 7b – Termite and he is a Licensed Contractor in the state of New Jersey. He has a Certified Renovator's License for Toxic Paint Removal and has completed his certification in Structural Fumigation at Broward County College Department of Natural Sciences – Pest Control Technology. Holding all these certification licenses enables AB-CON Termite and Pest Control to offer Any Type of Pest Control Service or Damage Repair that you may require.
In accordance with New Jersey Pest Management Department of Environmental Protection regulations, Ed maintains all his certifications with ongoing technical training courses provided by the state and various agencies. Being certified in a wide range of categories allows us to stay up to date on all aspects of Pest Control.
We are hopeful that AB-Con Termite & Pest Control Professionals will continue to exist, with the same family values and concerns for our clients, for many years to come.
We thank you for entrusting our family with the protection of you, your family, and your property. It is our pleasure to be of service to you!