Termites Do $5 Billion in Property Damages a Year – How Will You Protect Your Home?
While people worry about a fire or storm damaging their home, statistics show that damage caused by termites is far more likely. By calling AB-Con Termite and Pest Control, you can be assured of a professional inspection, recommendation, and program for preventing termites or dealing with current termite activity.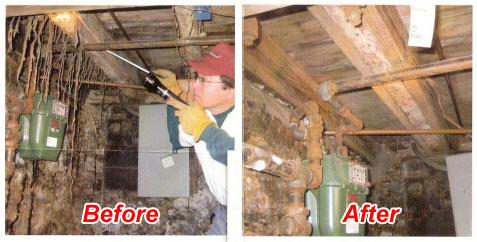 How Will AB-Con Identify My Termite Problem?
First, we will conduct a thorough and meticulous inspection of your home and property. A professional New Jersey Department of Environmental Protection Agency Certified Inspector will inspect the structure from top to bottom, from the basement to crawl space to the attic. After a thorough evaluation of your property, we will recommend a treatment plan tailored to your situation – your home's construction, where it is situated, and the degree of infestation and damages present.
How Will AB-Con Treat My Termite Problem?
AB-Con uses the latest in termite technology to protect your home. We use the most advanced and effective termiticide on the market today –Termidor® – a remarkable termite control product offering unprecedented results.Termidor® is the only termiticide that combines a unique mode of action, unmatched termite control, a long residual, and the ability to manage colonies fast, all in a low-dose, low-odor formulation.
Click Here to Request A Free Estimate!
Does My Termite Treatment come with a Warranty?
Termite treatment is warranted for one year, allowing for re-treatment at no additional cost if a further infestation is found. At your anniversary date, you may join AB-Con's many satisfied customers with our renewal warranty program, consisting of yearly re-inspections. Your warranty is also transferable to any homeowner should your home be sold during the warranty period. Your best protection for your real estate investment is a yearly inspection.
Wood Destroying Insect Inspections for Real Estate Transactions:
Each year, AB-Con performs hundreds of these inspections, which are required before a home or building is sold or refinanced. Commonly called a "Termite Inspection," its purpose is to inspect for any signs of visibly accessible evidence of termites, carpenter ants, wood infesting beetles, or carpenter bees that may be present in and around the structure. AB-Con's inspections are performed by professional New Jersey Department of Environmental Protection Agency Certified Inspectors. Both seller and buyer should be aware that a WDI Report covers only what an inspector concludes from what is visible on the date of the inspection only.
AB-Con also offers Termite Pre-treats for New Construction or Additions to your current home as well as Wood Repair(s) to termite damaged wood should it be necessary.
Why AB-Con?
Not all Termite Companies are the same, that's why more people choose AB-Con for total termite protection! Choosing AB-Con means that you do not have to wonder if your home is protected against termite infestation because we provide total protection with our Retreatment Warranty.   AB-Con's Renewable Termite Warranty coverage includes protection for subterranean termites for One Year.
We get rid of your termite infestation with the right termite solution at a fair price so termite swarms become a thing of the past and we will protect you against these very destructive pests.
Termidor®

AMERICA'S FIRST 100% TERMITE SOLUTION