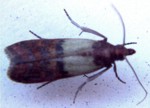 My wife and kids spend hours in the kitchen in December baking (and eating) holiday cookies and a "guest pastry chef" would definitely ruin their holiday cheer. You probably aren't on the National Pest Management Association mailing list – so I thought this press release was worth sharing with you:
November 23, 2010 (Fairfax, VA) — From old family recipes to new experiments, holiday baking is a favorite tradition for many families. When breaking out pie plates and cookie cutters, it's important to make sure no unwanted pastry chefs get into the mix. The National Pest Management Association (NPMA) wants consumers to beware of "pantry pests" that can take the sweetness out of holiday baking if homeowners don't guard against them.
What exactly are pantry pests? They are insects that tend to gather around food often stored in pantries and cabinets such as flour, dry cereals, spices, candies, and chocolate. Common pantry pests include several types of beetles, earwigs, Indian meal moths (pictured), pillbugs, stink bugs, silverfish, centipedes, millipedes and house crickets.
"People love baking treats during the winter and the appearance of a single pest could put a damper on that tradition," says Missy Henriksen, vice president of public affairs for NPMA. "Taking some simple preventative measures against pantry pests can make all the difference in making sure families enjoy their holiday baking all season long."
How can consumers prevent these unwanted guests from crashing their holiday cookie exchanges and baking marathons?
The National Pest Management Association (NPMA) suggests the following tips:
Immediately wipe up crumbs or spills from countertops, tables, floors, and shelves.
Store food in airtight containers and dispose of garbage regularly in sealed receptacles.
Only purchase food in sealed packages that show no sign of damage.
Add bay leaves to containers of dry goods like flour, rice, and other grains- their scent repels many pantry pests.
Install door sweeps on exterior doors and repair damaged screens.
Check expiration dates on baking ingredients before use.
Eliminate all moisture sites, including leaking pipes and clogged drains.
If you suspect a pest infestation in your home contact a certified pest professional to inspect, identify and treat the problem.
AB-Con – servicing South Jersey – Camden County, Burlington County, Gloucester County
If you have Further Questions please contact us at
(856)662-6195 or (609)267-0560 Or Click Here to Request A Free Estimate!
The NPMA, a non-profit organization with more than 7,000 members, was established in 1933 to support the pest management industry's commitment to the protection of public health, food and property. For more information visit: www.pestworld.org.