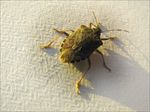 No, it's not a dinosaur; it's a Stink Bug…(officially a brown marmorated stink bug) that came to us from Asia.
In our area, these pre-historic looking creatures are active from spring to late fall.
In the summer, stink bugs generally be found in or near gardens- they really like fruits and veggies. At night, they are attracted to light and may be seen swarming about. In the fall, they are looking for a way in to get warm and hang out for the winter.
Your best defense is a good offense – keep them out! Once they find a way in they tend to return (and invite others) to the same area to hibernate because they leave a scent they are attracted back to.
Be cautious handling stink bugs – they can bite. They are slow-moving indoors and can be captured easily but don't crush them or vacuum them up – as a defense they will release their odor.  At home, we use a paper towel to catch them (so they don't bite) and then flush them down the toilet. If you choose to throw them back outside – be sure they will find their way back in.
The odor of a stink bug does tend to linger but it can be washed away with soap and water.
What you can do to keep them from hibernating in your home or building:
1) Seal outside areas – make sure windows and doors close tightly and all cracks in your home are sealed.
2) Check your chimneys, siding, utility pipes and underneath wood fascia and seal them up.
3) Damaged screens on doors or windows should be repaired or replaced.
4) Remove air conditioners from the windows when it starts to get cool outside.
5) Screen your attic or soffit vents and fans or cover them up for the winter.
6) Keep outdoor lighting to a minimum – they are attracted to the brightness and the warmth.
Stink Bugs are resistant to many types of pesticides and can be difficult to control, especially if they have already taken up residence in previous years. They have few known predators and can really become a nuisance. If you discover an infestation of stink bugs, you should have an expert identify the type of bug and determine what control can and should be used, if necessary.
If you need help reducing your risk of a Stink Bug invasion, give us a call!

Serving South Jersey for over 40 years
Camden County, Burlington County, and Gloucester County
For more information check out our Pest Control Services, call us at (856) 662-6195 or (609) 267-0560 Or Click Here!
What some of our customers have to say:
"I use AB-Con for my stink bug problem. From the initial call to Anne Marie, who was extremely professional, to the customer service I received from Monette to the pesticide application by Ed with his helpful suggestions, I was truly happy with AB-Con and the results of the spraying. AB-Con and their employees are professional and dependable. I would refer them to everyone, including my own mother."
Brenda McLaverty, Cinnaminson, NJ
"We wanted you to know that we are very happy with the chemical you are using to control the stink bugs. It is really working in our heavily wooded area. We tell everyone we talk to that is still having a problem with stink bugs that they should call AB-Con."
Carol Myles, Moorestown, NJ
---
South Jersey Cities Served: Atco, Audobon, Audobon Park, Barrington, Bellmawr, Berlin, Beverly, Blackwood, Brooklawn, Browns Mills, Burlington, Burlington City, Camden, Cherry Hill, Clayton, Clementon, Cinnaminson, Collingswood, Columbus, Delanco, Delran, Deptford, Edgewater Park, Eastampton, Evesham, Florence, Franklinville, Gibbsboro, Glassboro, Glendora, Gloucester City, Gloucester Township, Haddonfield, Haddon Heights, Haddon Township, Hainesport, Hammonton, Hi Nella, Laurel Springs, Lawnside, Lindenwold,Lumberton, Magnolia, Mansfield, Mantua, Maple Shade, Marlton, Medford, Medford Lakes, Merchantville, Moorestown, Mt. Ephraim, Mt. Holly, Mt. Laurel, Mt. Royal, Mullica Hill, Oaklyn, Palmyra, Paulsboro, Pemberton, Pennsauken, Pine Hill, Pitman, Riverside, Riverton, Roebling, Runnemede, Sewell, Sicklerville, Somerdale, Southampton, Springfield, Stratford, Swedesboro, Tavistock, Thorofare, Trenton, Turnersville, Vincentown, Voorhees, Washington Township, Waterford Works, Wenonah, Westampton, West Berlin, West Deptford, Westville, Williamstown, Willingboro, Winslow, Woodlynne, Woodbury, Woodbury Heights, Wrightstown