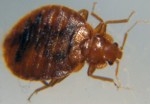 That used to be the saying when I was a child and I had no idea what it meant then – but I did know that I didn't want them biting me – I thought they were mythical creatures. But that was then, and now that I am a certified pest control professional with years of experience I can tell you this…
Bedbugs are real and have been around forever, but they disappeared 50 to 60 years ago with the widespread use of a pesticide called DDT.
Bedbugs are bloodsucking insects. A bedbug pierces the skin of its host with two hollow feeding tubes. With one tube it injects its saliva, which contains a kind of anesthetic – this is why they can bite you while you are sleeping and you don't even know it is happening. With the other tube it withdraws the blood of its host. After feeding for about five minutes, the bug returns to its hiding place. What they leave are itchy, red bites that can become infected if scratched.
DDT was banned in 1972 as too toxic to wildlife and since then, the bugs have developed resistance to chemicals that replaced DDT and the hungry critters have been recently reported all across the U.S.
In the industry Bedbugs are called "hitch-hikers" – you can get them by visiting infested homes or hotels, where they hide in mattresses, pillows, and curtains. The bugs climb onto bags, clothing, and luggage and then they come home with you. Your best defense when visiting is to put your luggage on a luggage rack or shelf in a closet and strip the bed to check it before you sleep in it. If you notice any sign of infestation immediately leave the room and take your belongings with you.
Please do not use outdoor pesticides inside your home – there are reasons why they are labeled "outside only" – some are more hazardous chemicals that can harm the central nervous system, cause nausea, irritate the skin and eyes or even cause cancer. Some lawn and garden chemicals are highly flammable and you could burn your house down. Other hardware store items may claim to get rid of the pests, but really only make them scatter and hide…only to come back again. Many items you can purchase off-the-shelf have a high concentration of water.
Please do not think that you can get rid of these pests on your own – call a professional with a current DEP license!
Click Here to Request A Free Estimate!
---
South Jersey Cities Served: Atco, Audobon, Audobon Park, Barrington, Bellmawr, Berlin, Beverly, Blackwood, Brooklawn, Browns Mills, Burlington, Burlington City, Camden, Cherry Hill, Clayton, Clementon, Cinnaminson, Collingswood, Columbus, Delanco, Delran, Deptford, Edgewater Park, Eastampton, Evesham, Florence, Franklinville, Gibbsboro, Glassboro, Glendora, Gloucester City, Gloucester Township, Haddonfield, Haddon Heights, Haddon Township, Hainesport, Hammonton, Hi Nella, Laurel Springs, Lawnside, Lindenwold,Lumberton, Magnolia, Mansfield, Mantua, Maple Shade, Marlton, Medford, Medford Lakes, Merchantville, Moorestown, Mt. Ephraim, Mt. Holly, Mt. Laurel, Mt. Royal, Mullica Hill, Oaklyn, Palmyra, Paulsboro, Pemberton, Pennsauken, Pine Hill, Pitman, Riverside, Riverton, Roebling, Runnemede, Sewell, Sicklerville, Somerdale, Southampton, Springfield, Stratford, Swedesboro, Tavistock, Thorofare, Trenton, Turnersville, Vincentown, Voorhees, Washington Township, Waterford Works, Wenonah, Westampton, West Berlin, West Deptford, Westville, Williamstown, Willingboro, Winslow, Woodlynne, Woodbury, Woodbury Heights, Wrightstown