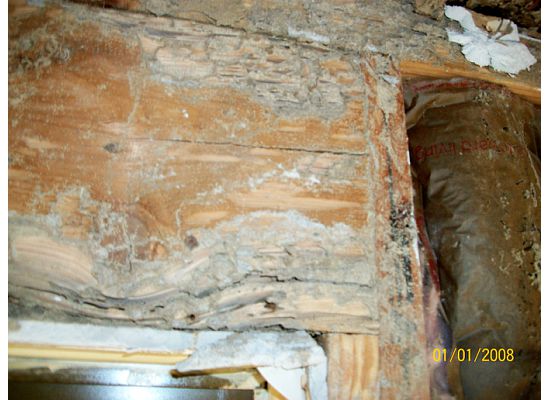 Benjamin Franklin once said – "An ounce of prevention is worth a pound of cure."
Termites quietly cause billions of dollars in property damages every year!
A few minutes of your time, once a year with a certified inspector can save you hundreds of dollars in treatment and/or damage repair costs!
 A Termite Inspection should be completed by a New Jersey Department of Environmental Protection Agency Certified Inspector.
A qualified inspector will perform a thorough and meticulous inspection of your home and property – all readily accessible, visible areas will be inspected, reporting any evidence of termite infestation.
What the inspector is looking for – Areas Conducive to Termite Infestation:
     Crawl ventilation poor/marginal
     Soil in crawl space is moist/wet
     Fill under foundation settling
     Paper collars around pipes
     Inaccessible crawl area
     Wooden forms around drains/plumbing
     Cracks in concrete foundation
     Dirt filled porches inaccessible
     Stucco/brick/siding below grade
     Wood to ground contact
     Shrubs/plants adjacent to structure
     Patio/walkway adjacent to structure
     Irrigation adjacent to structure
     Flower boxes adjacent/attached to structure
     Landscape timbers termite infested
     Mulch termite infested
     Trees/shrubs termite infested
     Air conditioning drain close to structure
     Leaking pipes/faucets/sprinklers
     Surface water drains towards structure
     Missing shingles/roof repairs needed
     Eaves have little or no overhang
     Gutters needed or in need of repair
If evidence of an infestation is found a comprehensive treatment plan will be provided.
If you choose AB-Con to treat your property, you will not have to wonder if your home is protected against termite infestation. We provide Total Protection with our Re-Treatment Warranty.
AB-Con's Renewable Termite Warranty coverage includes protection for subterranean termites for One Year allowing for re-treatment at no additional cost if a further infestation is found.
Our renewal program includes an annual inspection, can be maintained for as long as you like, and is transferable to any homeowner should your home be sold during the warranty period.
Don't leave your South Jersey Home unprotected – Schedule a Termite Inspection Today!
Your Best Protection is an Annual Inspection!
A testimonial we recently received from the Messineo's in Cinnaminson, NJ:
"We have been customers of AB-Con Termite and Pest Control since we purchased our Cinnaminson home in 2001. Our home was already covered under warranty by the previous homeowners and the termite warranty was transferred into our name by a phone call. Since then, AB-Con comes out each year to re-inspect our home for live termite activity – and there has been none! We have also used them successfully for some pest issues we have had over the years. We would recommend AB-Con to anyone – and we have!"  
– Larry and Joanne Messineo, Cinnaminson, New Jersey
---
If you would like a Termite Inspection, give us a call!